Frequently Asked Questions
Please review the frequently asked questions below. If you don't find the answer to your question, feel free to contact me here
How should I contact you? Can I email you directly?
New Patients or "Matriarch-Curious":
If you have questions or need clarification about something on this website, please send a message through the "Contact" link here or fill out the Good Fit Form.
For Established Patients:
Please send messages through the ChARM electronic health record patient portal. Email is not secure nor HIPAA compliant. When we communicate through the portal, all of our dialogue becomes part of your medical chart so there are no missing pieces in your Journey to Wellness.
I also LOVE to hear about your wins, big or small! Send me quick updates through the portal any time so we can celebrate together 🙂
Pricing, Scheduling & Cancellations
New Patient Visit ($375)
Ready to get started as a new patient? Our initial visit together lasts 90 minutes and will include a
deep dive into your Health Story. We can only utilize our time together well if you are able to fill out the necessary (online) paperwork and return it back to me at least a week before your first
appointment. This allows me to review all of the juicy details and start some strategic planning.
After scheduling, watch your email for a link to all of the necessary forms.  
Follow Up Visits for Established Patients ($250) 
Follow up visits are 60 minutes and may include a review of laboratory or other diagnostic findings, nutrition or lifestyle consult, refinement your plan of care, renewal of prescriptions, etc. 
Telemedicine Visits 
Matriarch Health and Wellness is now 100% virtual! Telemedicine is a HIPAA-secure, face-to-face, video-conference call (by computer or other device with a camera/microphone via Zoom) that is recognized by insurance companies in most states. I encourage you to become familiar with what your insurance plan covers. I am licensed in the state of Utah and Idaho; you must also be located in Utah or Idaho at the time of your initial visit if you plan to submit a Superbill to your insurance.  Just think, you could get your health care in your PJs! 
Time is Precious! I understand that Life Happens and sometimes we need to cancel or reschedule
appointments. Please allow at least 48 HOURS notification (2 business days) so that I may try to fill your time slot with another amazing Matriarch who is also on a Wellness Journey. Failure to notify me within 2 business days will result in a charge of $100. Thank you for your understanding. 
Supplements & Prescriptions
I have full prescriptive authority but don't need to write many prescriptions for pharmaceuticals (Low Dose Naltrexone is an exception, please see this page for more information about this important option for many patients).
If you need a prescription refilled, please ask your pharmacy to fax a refill request to my office and it will be processed within 3 working days. Please note: I do not refill controlled substances without an appointment. No exceptions.

Supplements

(e.g., nutraceuticals, over-the-counter vitamins, minerals, herbal remedies, etc.) are exactly that: to SUPPLEMENT a beautiful diet and lifestyle. With a few exceptions, SUPPLEMENTS ARE NOT PERMANENTS. My goal is to create a supplement protocol, when necessary, that augments your body, your environment, your lifestyle, and your health goals without breaking the bank (or breaking your back when you have to carry grocery bags of them around – yes, I have seen this).
It is critically important that if you chose to take supplements that

they are free from unnecessary additives, fillers, preservatives, dyes, or other potentially harmful ingredients. This should include being gluten-free and minimizes exposure to other top food allergens or other possible causes of inflammation like corn, soy, dairy, lactose, peanut, shellfish, etc.

you purchase them from a reputable source that offers temperature-controlled warehouses and protects against counterfeiting (this is VERY common in the supplement/nutraceutical world – beware of Amazon.com sellers!
I recommend my patients use Fullscript to purchase professional-grade supplements. It is safe, convenient, and when you purchase supplements from Fullscript, we can both expect a certain kind of outcome (better health!). If you use supplements of questionable quality or sourcing and you don't have great health outcomes, it will be difficult to know the true cause. It may be we missed something but it may be that your supplement is missing something (or contains an additive or other ingredient that may be harmful to your body). If you use the button below, you will also save 15% off every order and free shipping on orders over $50.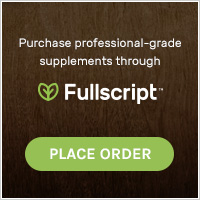 Does Matriarch Health & Wellness provide primary care?
Many of my patients experience such improved health that they rarely need other medical services. However, I STRONGLY recommend that all of my patients be established with a local primary care provider for acute care, preventive exams, and after-hour needs. The Emergency Department or an Urgent Care clinic are convenient but it makes sense to have an available provider who is familiar TO YOU as well as WITH YOU over the course of your life. You never know when you will encounter bumps along the road, big or small!
What about Insurance, Medicaid, or Medicare?
After many years in various health care settings, from tiny clinics to huge health care organizations, I have decided to opt out of commercial and government insurance contracts. I do not bill insurance directly but am "insurance billable."
This means that your visits are fee-for-service (you pay at the end of your visits) and I provide you with a detailed billing summary (a "Superbill") with appropriate CPT and ICD-10 codes that you may submit to your insurance for possible reimbursement. Many patients have had great luck submitting claims and getting reimbursed using the app called Reimbursify. 
Important Note: Per their guidelines, Medicare and Medicaid do NOT reimburse for out-of-network services (to me or to you).
This allows me to offer my patients the type of care I want for myself and my loved ones: no restrictions on making choices about individualized care and loooooong visits.
Conventional care visits in an insurance-reimbursed setting are usually under 10 minutes in length with fewer than 15% being longer than 25 minutes. At Matriarch Health & Wellness, we spend 90 minutes together for a New Patient Visit and 60 minutes for all Follow Up Visits.
In addition to extensive appointment times you get a comprehensive review of your unique Life's Health Story, an assessment of your strengths, resources, goals, and environmental influences, and thorough laboratory testing. This in-depth approach and extremely individualized care ensures we achieve root cause resolution – really get to the bottom of things!
Many laboratory tests, prescription medications, and/or durable medical equipment are covered by health insurance plans. These costs will be billed directly to your insurance by the laboratory, provider, or pharmacy.
Matriarch Health & Wellness does not submit medical claims to insurances on your behalf and does not assist with claim resolution for our services.
The cost of my services are always transparent and there are no hidden fees. I encourage all patients to become familiar with their insurance contract and terms so there are no surprises!
Finally, please remember that every drop of sweat dripped, good choice made, minute of self-care allotted, and penny spent on yourself is an investment in your amazing Future You 🙂
About Lab Tests
When we try to solve the mystery of an individual patient's illness or dysfunction, putting the puzzle pieces together is tricky. Laboratory testing is a critical piece of each patient's puzzle and in most cases, my motto is, "TEST, don't guess!" This may include blood, saliva, urine, or stool testing. We need all the tools we can get in order to move forward toward your Wellness destination.
Most standard lab tests ordered will be billed directly to your insurance by the lab. My preference is to use Quest Diagnostics for Washington patients and Intermountain Health Care for Utah patients. 
Some specialty/functional labs are not contracted with commercial insurers directly but the cost of the test may be reimbursable to you when you submit the claim. Other specialty/functional labs may not be covered by insurers at all and you will be responsible for the up-front cost of the lab.
You may be able to use an HSA card for medical laboratory testing when the test is ordered by a health care provider.
I will make every effort to find the most cost-effective method of testing.
I do not receive any financial incentive by ordering specialty/functional laboratory testing.
You are under no obligation to purchase any specialty/functional testing. Please note, however, that your health gains might be slower if we are unable to gather this important information.
Should any lab results indicate you may need further care that is beyond the scope of our partnership, you will be referred to your primary care provider and/or a relevant specialist.
Take The Next Step On Your Journey to Wellness
Let's make sure we are a good fit! Click the button below to tell me more about yourself and your health journey by filling out the Good Fit Form.